About Us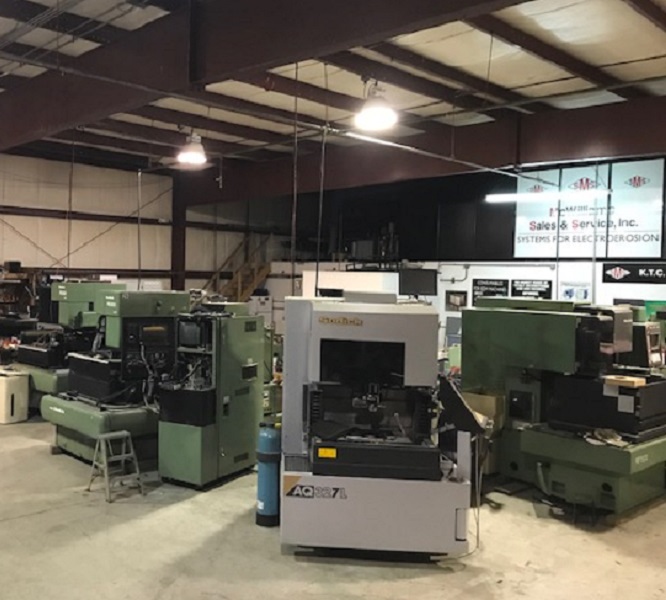 Our workshop in Michigan
We appreciate this opportunity to tell you about us and the products and services we provide. With our combined 200 plus years of experience in the EDM industry, we look forward to using our extensive knowledge to help you with your future EDM machine purchases.
McWilliams Machinery Sales was established in 1969. By 1976 the company was solely responsible for the importation and sale of Japax EDM machines in the USA. At this time, we also controlled 35% of the entire EDM market in the USA. Between 1988 and 1990 McWilliams Machinery Sales also imported Sodick Wire EDM machines, which were sold under both the McWilliams and Sodick names. Today, approximately 50% of these machines are still in service. In 1990, McWilliams Sales & Service acquired the assets of McWilliams Machinery Sales. We continue to provide service and support for all Japax and McWilliams/ Sodick EDMs sold by the former company.
In the early 1990's Sodick acquired Japax and ceased manufacturing of the company's EDM products. In 1995, McWilliams Sales & Service negotiated the purchase of all assets, spare parts, and technical information for the Japax EDM product lines. McWilliams Sales & Service is now the single source for all Japax parts worldwide.
Since 1990 we have imported and sold new Small Hole EDMs throughout North America. In 1995, McWilliams introduced their fourth generation manual Small Hole EDM model. In 1998, we added a more economical version along with a newly designed CNC EDM machine. In late 2007 we brought out another less expensive Small Hole EDM which was updated in 2015. One of the finest features about us is that we are committed to continuing the development of economical and efficient EDM solutions.
Dedicated to the EDM market, McWilliams Sales & Service expanded its business to include buying used EDMs, reconditioning and then selling them. With the expertise gained over many years of specializing in Japax EDM and Sodick EDM machines of all types, we are the foremost company in North America for complete reconditioning of these EDM machines.
The fact that 75% of our business is the result of referrals and repeat orders speaks volumes for the quality of our EDM rebuilding process, service, and support.